Toms River's Field Of Dreams Hosts A Cornhole Tournament This Weekend!
The RWJ Barnabas Field Of Dreams, the all inclusive sports and playground complex for kids will host its inaugural Corn Hole Tournament this Saturday July 8th.
The Tournament will be held outdoors, on site at the complex located at 1505 North Bay Avenue in Toms River. The event runs from 4pm until 10pm. The entry fee is one hundred dollars to play per team of bag tossers. The cover charge to just attend and not play is ten dollars.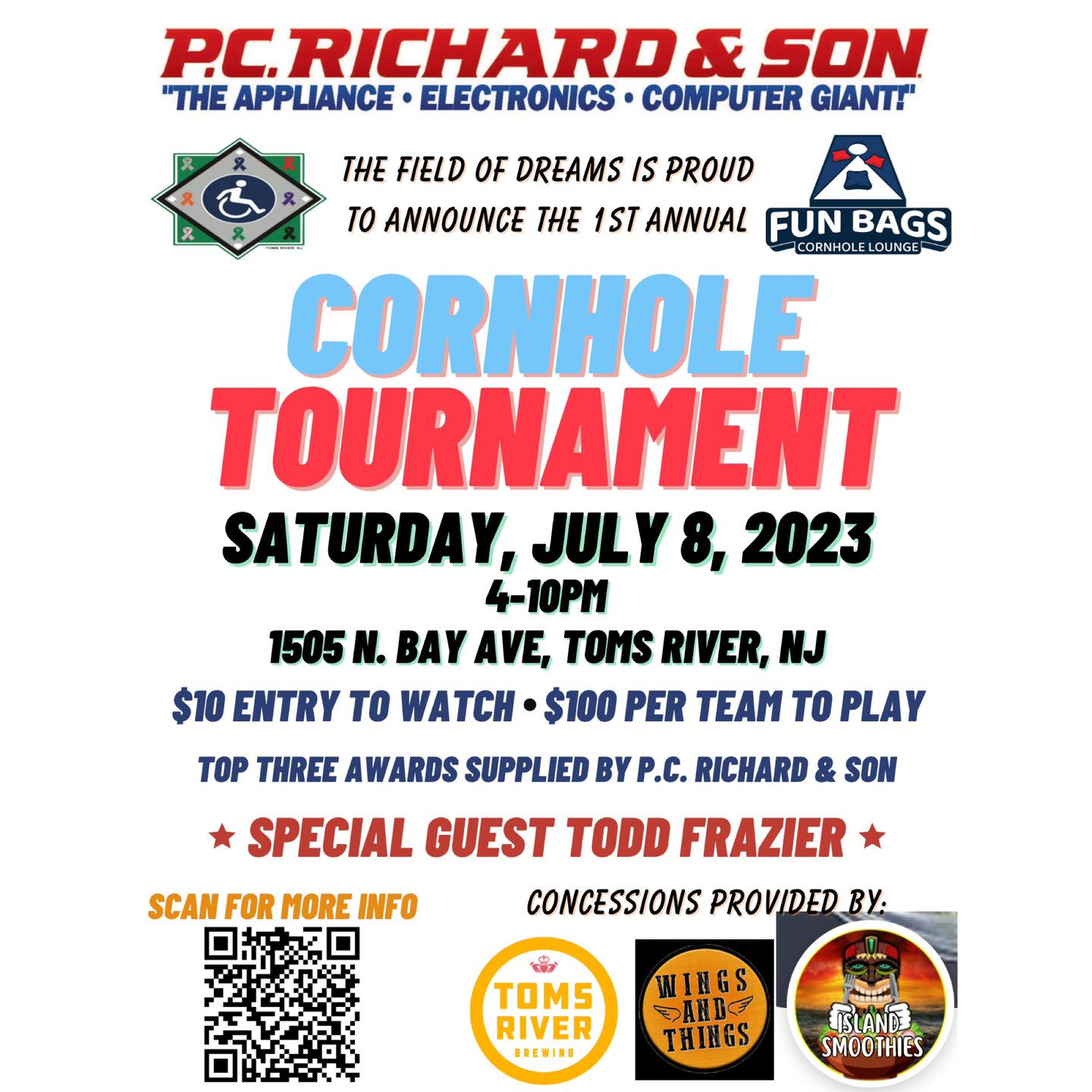 However, the price does go to a great cause. Why, the Toms River Field Of Dreams of course!
It's really a party and a cornhole tournament rolled into one big event! The Cornhole Tournament will run from 4 til 8pm, but the drinks and entertainment go until 10pm! Enjoy live music from the Jersey Shore band Guns 4 Hire. Moreover, there will be food available from local establishments Wings N Things, and Island Smoothies. Plus, beers for sale to those 21 and over from local favs (and Rat Studio Sponsor) Toms River Brewing!
According to he Field Of Dreams website, https://rwjbhfieldofdreams.com/event/1st-annual-cornhole-tournament/ , the way the tournament will go is, it will be a double elimination style tournament, organized by local Toms River business Fun Bags Cornhole. Furthermore, the top 3 prizes being provided by PC Richard and Son.
Meanwhile, former Major League player, and current member of the YES Network New York Yankees pre and postgame broadcast team, Todd Frazier will be there! Todd always seems to be there for his hometown when they need him.
If you can't make the event yourself, but still want to donate, you can do so. Just click the link here: https://rwjbhfieldofdreams.com/store/ for the donate now page of the website.
About Field Of Dreams.
Since Opening Day on April 30, 2022, the Field of Dreams has registered hundreds of families across New Jersey and the tri-state area. The Field of Dreams has hosted multiple sports leagues, giving many children and adults their first opportunity to participate in a sport. The Field of Dreams has also hosted dozens of events, providing a place for those with special needs to engage in social activity. Their Mission Statement is to provide communities in Monmouth and Ocean Counties an all-inclusive complex which has a playground and other multiple physical and cognitive environments which create and recognize everyone's right to fully participate in equitable play.  This inclusive complex intentionally addresses the physical and social inclusion of people of all ages and abilities.
Sign me up for the WRAT email newsletter!
Join ClubRAT for access to all the perks delivered right to your inbox from Jersey's Concert Connection! Get exclusive presale codes for upcoming shows, the latest updates with your favorite rockers, contest info, and more.
By clicking "Subscribe" I agree to the website's terms of Service and Privacy Policy. I understand I can unsubscribe at any time.