Barktoberfest Is Coming This Weekend To Island Beach State Park
Barktoberfest, the annual Fall Festival and Pet Expo is happening this Saturday October 7th, from 10am until 3pm.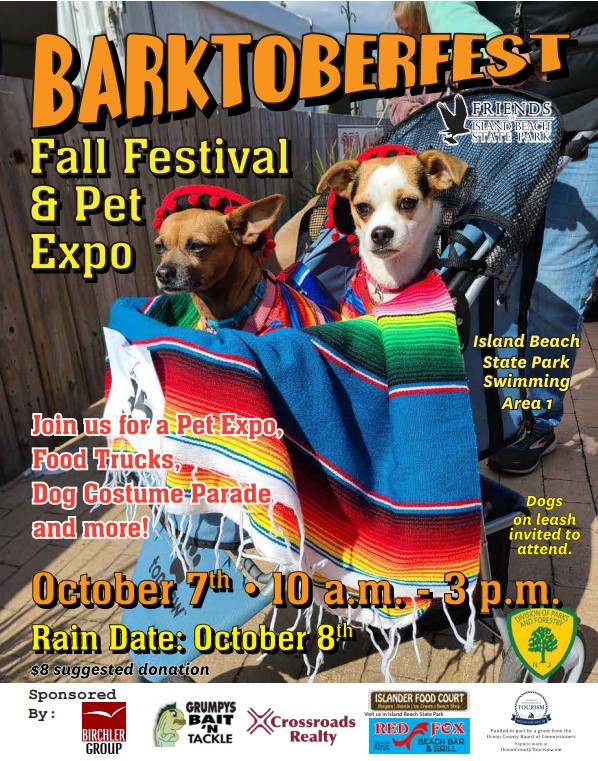 Barktoberfest is a celebration of our four legged furry friends. There will be a pet expo, filled with vendors. This is where you can all types of food, toys, and more for your dog. Furthermore, there will be a Barktoberfest Dog Costume Parade!  Meanwhile, All dogs on leashes are invited to attend this wonderful event.
Come hungry!
In addition to buying snacks for Fido, you can purchase and enjoy some treats from the many food trucks scheduled to be in attendance. Moreover, The event will be held at the  Swimming Area 1. The suggested donation is 8 dollars to attend, with proceeds going to maintain the wonderful beaches and facilities of Island Beach State Park.
The event is presented by The Friends Of Island Beach State Park, and The New Jersey Division Of Parks and Forestry .
Finally, this  awesome event is sponsored by The Birchler Group, Grumpys Bait n Tackle, and Ocean County Business Development and Tourism. The rain date for  Barktoberfest is Sunday October 8th.
The Friends of Island Beach State Park is a non-profit volunteer organization. It was formed to enhance interpretive, educational, recreational & research programs, and events at Island Beach State Park. Their mission is to further public appreciation of the park. Their members come from a wide range of  backgrounds and occupations but have in common a  variety of interests in this beautiful State Park. The Friends of Island Beach State Park, Inc. is a non-profit tax exempt corporation. As defined by the United States Internal Revenue Code 501-C-3 and was officially incorporated in 1996.
The Friends Of Island Beach State Park's primary objectives include:
To raise and receive funds or property to assist in the enhancement of the nature habitat, buildings, and properties of Island Beach State Park.
To encourage protection of the barrier island ecosystem.
To support activities, educational & special events, and programs that further public appreciation, participation, and stewardship of the park.
To encourage support for park programs through volunteer participation, fund raising, and dissemination of information. Find out more at https://friendsofibsp.org/
GALLERY: Bark in the Park 2023
Sign me up for the WRAT email newsletter!
Join ClubRAT for access to all the perks delivered right to your inbox from Jersey's Concert Connection! Get exclusive presale codes for upcoming shows, the latest updates with your favorite rockers, contest info, and more.
By clicking "Subscribe" I agree to the website's terms of Service and Privacy Policy. I understand I can unsubscribe at any time.