Get Ready For The Seaside Park Summer Concert Series
Seaside Park has so many reason's people love to live and vacation there. One of those reasons returns this Monday June 26th, with the Seaside Park Free Summer Concert Series!
The concerts will take place every Monday on the Borough Hall lawn in front of the Police station, 7:30pm til 9pm, through August 28th. The official address for directions is 1 Municipal Plaza, Seaside Park, NJ 08752.
There will be an eclectic mix of artists performing every Monday evening throughout the Summer months. For example, Classic Rock from the 60s and 70s, to some of the Jersey Shore's hottest cover bands. A Jazz quartet is scheduled, a Blues band, and even a Marine brass band! There really will be something for everyone this year at the Seaside Park Summer Concert Series.
The full schedule for the Seaside Park Summer Concert Series includes:
THE KOOTZ, this Monday June 26th
THE NAVASINK BRASS RETIRED MARINE BAND July 3rd
STRICTLY 60s on July 10th
UNDERWATER AIRLINES July 17th
FISH EYED BLUES July 24th
JP LASTELLA  July 31st
HALFWAY THERE August 7th
THE KOOTZ are back August 14th
STRICTLY 60's return on August 21st
THE JOE BAIONE JAZZ QUARTET rounds out the Summer Concert Series for the season on August 28th.
Be sure to bring your own lawn chair or blanket. Also, pack some snacks and beverages to this family friendly event. In fact, every event this season in Seaside Park is big, considering this is the borough's 125th year anniversary celebration! There are many other special events planned all Summer long in Seaside Park. You can find them all at the borough's website here.
The Borough Hall lawn is located in front of the Seaside Park Police Station, between 5th avenue and 7th avenue, in the middle of Route 35. There is plenty of parking and spots to park your bikes as well. So come on out for some excitement and fun away from the beach and boardwalk. Every Monday night at 7:30, all Summer long!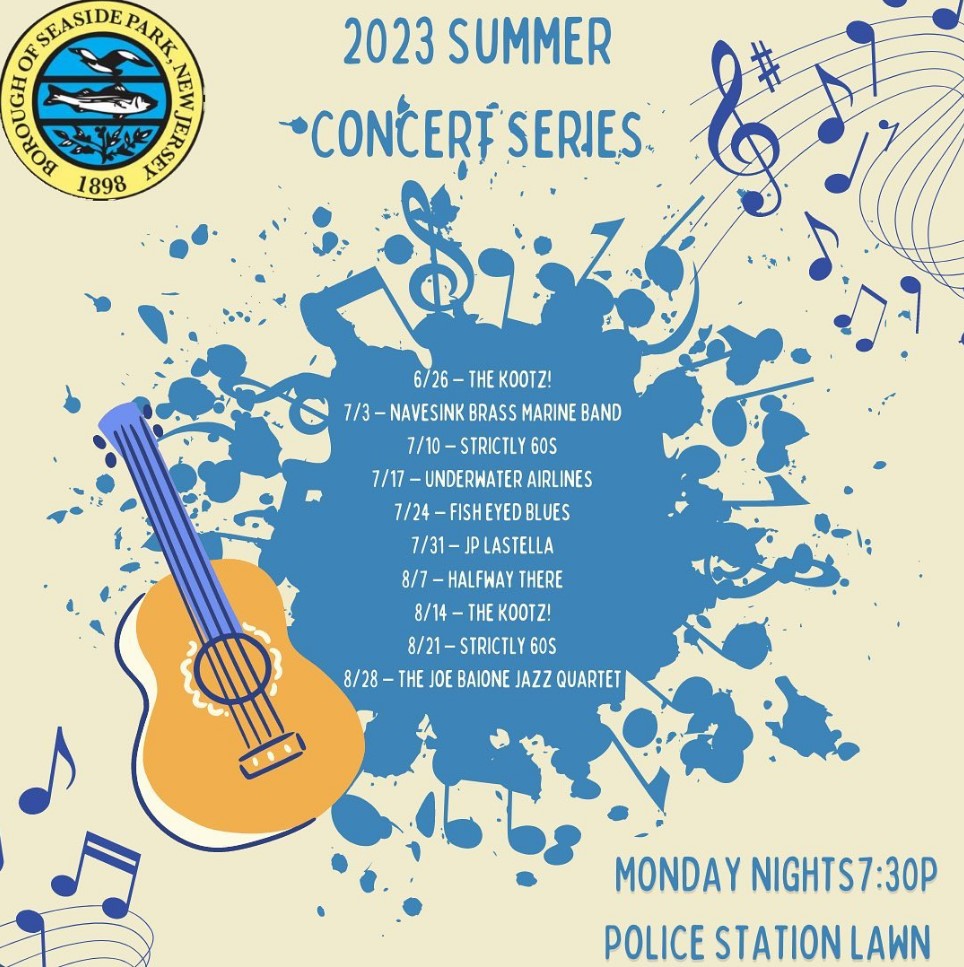 GALLERY: Downtown Toms River- Comfort Food Festival
Sign me up for the WRAT email newsletter!
Join ClubRAT for access to all the perks delivered right to your inbox from Jersey's Concert Connection! Get exclusive presale codes for upcoming shows, the latest updates with your favorite rockers, contest info, and more.
By clicking "Subscribe" I agree to the website's terms of Service and Privacy Policy. I understand I can unsubscribe at any time.