Kick off Summer right with the Island Heights Volunteer Fire Company on Saturday, June 24th from 4pm until 10pm with their annual Summerbrew!
There will be a great selection of beers from some of the best national brands, as well as local favorites pouring their original creations.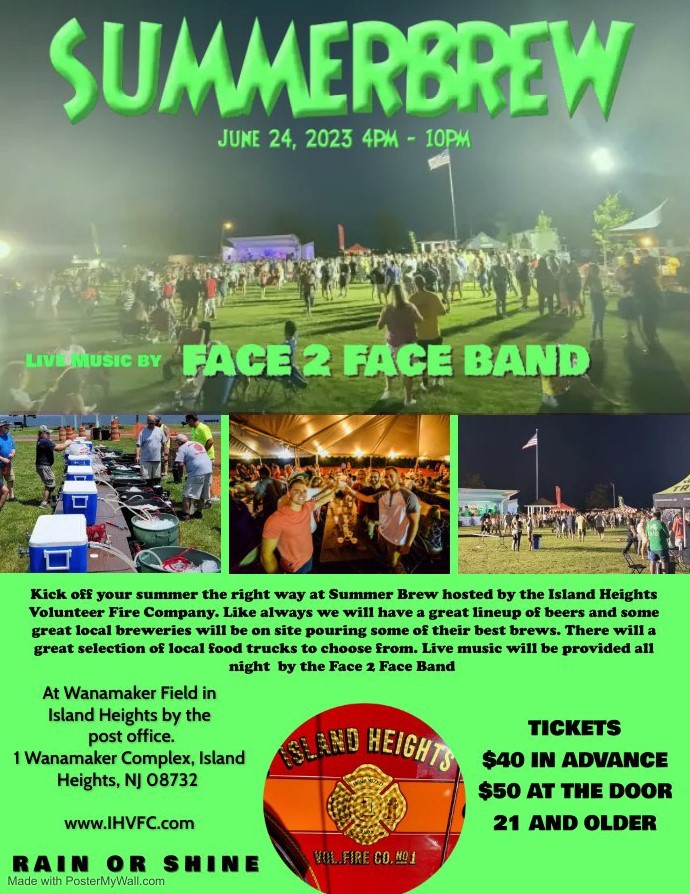 Hungry?
Good, because there will be an amazing lineup of local food trucks at Summerbrew to choose from.  Live music will be provided by the great Jersey Shore band Face 2 Face.
This is the 23rd year for Summerbrew. It has become a Summertime Kickoff tradition in the small community of Island Heights. Meanwhile, this year the event is being sponsored by a very generous donor, Cornerstone Contracting.
Donors!
Moreover, because of the donations from Cornerstone Contracting and others, the Fire Company is able to bring back some of the favorites that make Summerbrew what it is. Some of these extras include an unlimited selection of craft beer, as well as a larger variety of food trucks, and getting the band Face 2 Face to play and extra hour! So, those donations really make a difference.
Tickets.
Speaking of donations, the ticket price is 40 dollars in advance, 50 dollars at the door. The event is 21 and older, rain or shine, with no refunds. To purchase tickets, you can buy them off of one of the fine Island Heights Volunteer firemen. You can also purchase them online here: https://www.eventbrite.com/e/summerbrew-2023-presented-by-island-heights-vol-fire-co-1-tickets-630045883197
Where?
The event will be held at  Wanamaker Field, at 1 Wanamaker Complex, Island Heights, near the Island Heights Post Office. For more info go to https://ihvfc.com/
More about the IHVFC.
Founded in 1895, the Island Heights Volunteer Fire Company Number One is a 100 percent independent, non profit organization. They are almost fully funded by donations, grants, and fundraisers such as this year's Summerbrew. Mike McDaniel is the current Chief, and Robert Wilbur Jr is the current President.
Sign me up for the WRAT email newsletter!
Join ClubRAT for access to all the perks delivered right to your inbox from Jersey's Concert Connection! Get exclusive presale codes for upcoming shows, the latest updates with your favorite rockers, contest info, and more.
By clicking "Subscribe" I agree to the website's terms of Service and Privacy Policy. I understand I can unsubscribe at any time.