The date has been set for Sea Pirate Campground's Annual Craft Beer Bash & Chili Cook Off  – June 10th!
The Campground is located at 148 Main Street (Route 9), in West Creek. The event will be held from 1pm until 4pm, next Saturday June 10th. There will be tons of beers to sample from the ample amount of local breweries in the area. Plus get ready for live music from a great local band, 40 North!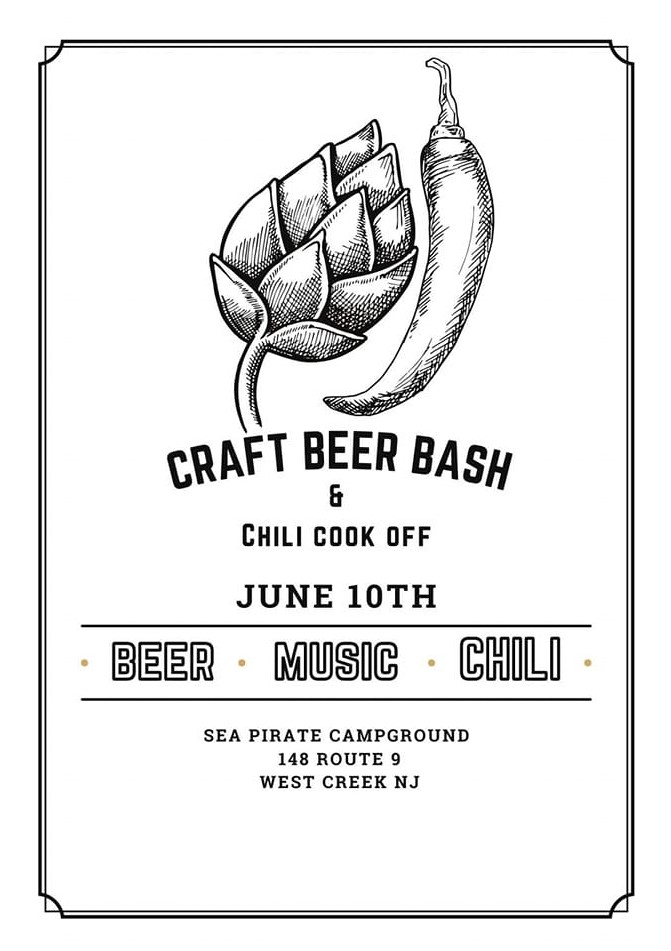 Furthermore, there will be plenty of chili to sample as some of there area's best chili concoctors! Vote for your favorite. There is even a firehouse division. In fact, any firehouse that thinks they have what it takes to take home the top prize in the firehouse division of the chili cookoff, can contact the Sea Pirate Campground to register. Contact Betty Ann, or Liz at 609-296-7400.
The cost of this event is 30 dollars for beer and chili tasting, and just 10 dollars for the chili tasting alone. The Sea Pirate Campground generously donates all the proceeds from this event to the Eagleswood Volunteer Fire Company.
According to their website, Sea Pirate Campground is located on the Jersey Shore just a few minutes away from Long Beach Island. They have Captain Cottages, Deluxe Cabins, Basic Cabins, Seasonal Sites, RV sites, and more. Furthermore, they are a pet-friendly campground, and do ask that you make your reservations early for your planned stay.
Find out more at  https://sea-pirate.com/?utm_source=GMB&utm_medium=Organic&utm_term=GMB1&utm_content=Listing
Finally, some of the local breweries that have already committed to Sea Pirate Campground's Craft Beer Bash and Chili Cookoff include Toms River, Oyster Creek, Manafirkin, Pinelands & Icarus.
35 Breweries You Should Check Out In New Jersey
Sign me up for the WRAT email newsletter!
Join ClubRAT for access to all the perks delivered right to your inbox from Jersey's Concert Connection! Get exclusive presale codes for upcoming shows, the latest updates with your favorite rockers, contest info, and more.
By clicking "Subscribe" I agree to the website's terms of Service and Privacy Policy. I understand I can unsubscribe at any time.