The American Legion Post 129 Memorial Day Pig Roast is back tomorrow, May 27th, and is open to the public!
The event will be held once again at the American Legion Post 129, at 2025 Church Road in Toms River. From 1pm until 5pm the legion will be putting out some spread! The menu will include spit roasted pig, barbecued chicken, hot dogs, hamburgers, salads, baked beans and more! Furthermore, there will be draft beer, canned soda, and bottled water available.
Of course you can't have a rockin' Memorial Day weekend party without the rock. So the legion has hired one of the best Jersey Shore bands to rock out all day long. Katfish Lucy will be live on stage throughout the afternoon. Plus, there will be games, a 50/50 raffle, and a small gift auction.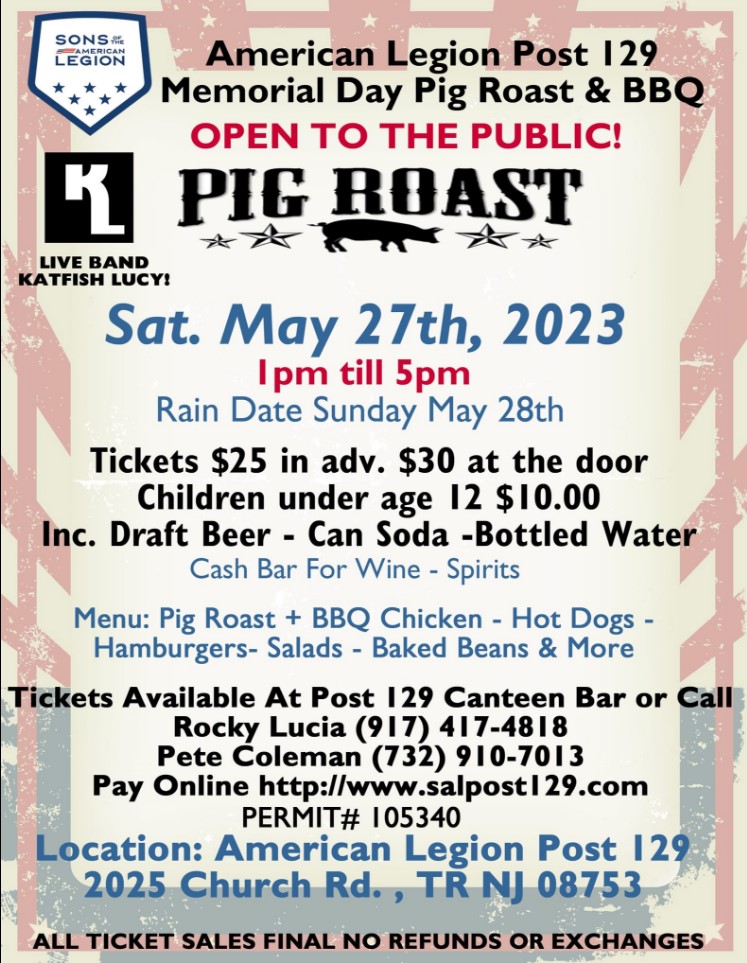 As mentioned, this event is open to the public. The ticket prices are 25 dollars in advance, 30 dollars at the door. Children under the age of 12 are just 10 dollars. While the price of admission does include all food and the beer, soda, and water, there is a cash bar available for wine and spirits.
Tickets are available now at the American Legion Post 129 Canteen Bar or by calling Rocky Lucia at 917-417-4818, or Pete Coleman at 732-910-7013. Moreover, you can also pay online by visiting http://salpost129.com/pigroastonline.html?fbclid=IwAR2bimriPbXRa6SAfT-n5i2IgXOiAvEmGXiZOV_0PL9AOyesoKgA-J8w1W0
All ticket sales are final. No outside beverages allowed. There is no rain in the forecast, however there is a rain date of Sunday May 28th scheduled, just in case. Proceeds benefit the Sons Of The American Legion, and American Legion Post 129, Toms River, New Jersey. Permit #105340
So come on out, and put some Pork On Your Fork with your friends and neighbors, and honor our fallen heroes at the American Legion Post 129 Memorial Day (Saturday) Pig Roast and Barbecue!
For more info log onto the legion's Facebook page at https://www.facebook.com/events/613117174177400/?acontext=%7B%22event_action_history%22%3A[%7B%22surface%22%3A%22home%22%7D%2C%7B%22mechanism%22%3A%22search_results%22%2C%22surface%22%3A%22search%22%7D]%2C%22ref_notif_type%22%3Anull%7D
GALLERY: The 21st Annual RAT Rock Open Charity Golf Classic
Sign me up for the WRAT email newsletter!
Join ClubRAT for access to all the perks delivered right to your inbox from Jersey's Concert Connection! Get exclusive presale codes for upcoming shows, the latest updates with your favorite rockers, contest info, and more.
By clicking "Subscribe" I agree to the website's terms of Service and Privacy Policy. I understand I can unsubscribe at any time.