The Downtown Toms River Farmers Market Is Back
A sure sign of the season, the Downtown Toms River Farmers Market returns Wednesday May 24th, to Huddy Park!
The market, which started more than a decade ago, celebrates everything that is great about the Garden State. There is literally something for everyone at the Downtown Toms River Farmers Market. From vendors selling flowers and honey, to local specialty foods and baked goods. Furthermore, there are gourmet pickles, olives, mushrooms, and other charcuterie board treats. Plus, homemade, handmade items, like guacamole, soaps and lotions. Meanwhile, as the spring turns into summer, some of the finest and freshest vegetables from New Jersey will be available for purchase.
if spirits are on your shopping list, you can sample and purchase items from local area breweries, wineries, and distilleries. If you work up a thirst of the non alcoholic kind, have no fear! There will be a smoothie truck on premises each week during the market.
The Downtown Toms River Farmers Market will be held every Wednesday through October 25th, weather permitting, at Huddy Park, located at 39 East Water Street, from 11am until 4pm. The market is presented by the Downtown Toms River Business Improvement District. If you are interested in becoming a vendor, or want to check out the full list of events this year in Downtown Toms River, you can click here: https://downtowntomsriver.com/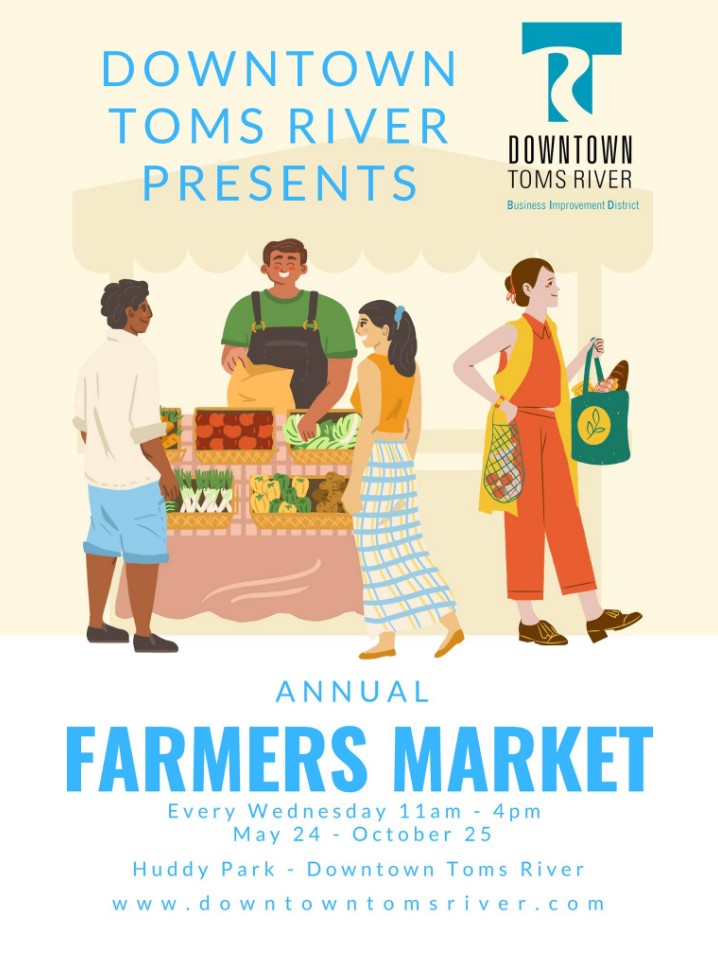 Huddy Park is Dedicated to the patriot hero Joshua Huddy of the American Revolutionary War, who was hanged in New Jersey in 1782.
Sign me up for the WRAT email newsletter!
Join ClubRAT for access to all the perks delivered right to your inbox from Jersey's Concert Connection! Get exclusive presale codes for upcoming shows, the latest updates with your favorite rockers, contest info, and more.
By clicking "Subscribe" I agree to the website's terms of Service and Privacy Policy. I understand I can unsubscribe at any time.